READ THESE DIRECTIONS CAREFULLY! Choose the category you would like to apply for--you may apply for more than one--then choose the banner you would like to have for that award, give me your site name and then e-mail
me.
The words "SAMPLE" and "Your site name here" will be removed. You will be notified by e-mail after I preview your site. Link the award to http://jesmith2009.tripod.com.
Also ask about personalized awards.
I am currently working on fanfiction and children awards.
Click here to see the recipients of my awards!
BEATLES FAB SITE
Award 1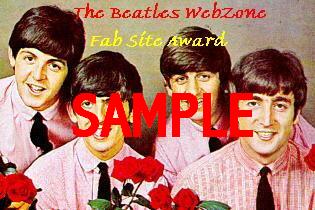 Award 2

BEATLEGIRL EXCELLENCE
Award 3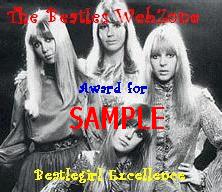 Award 4